Swedish arch viz company uses V-Ray to render design for the US's tallest building

Founded in Gothenburg, Sweden in 2006, Tomorrow has become a world-renowned architectural visualization studio.

After considering careers in visual effects, co-founders Andreas Landgren and Mattias Henningson got into professional CGI with visualizations for Swedish car companies Volvo and Saab. Soon, they realized there was a growing need in the market for architectural imagery.

At a time when renderings were still created by hand, Tomorrow's approach, and the stunning imagery they could create, attracted clients quickly. Their first projects came from their native country, and then from around the world.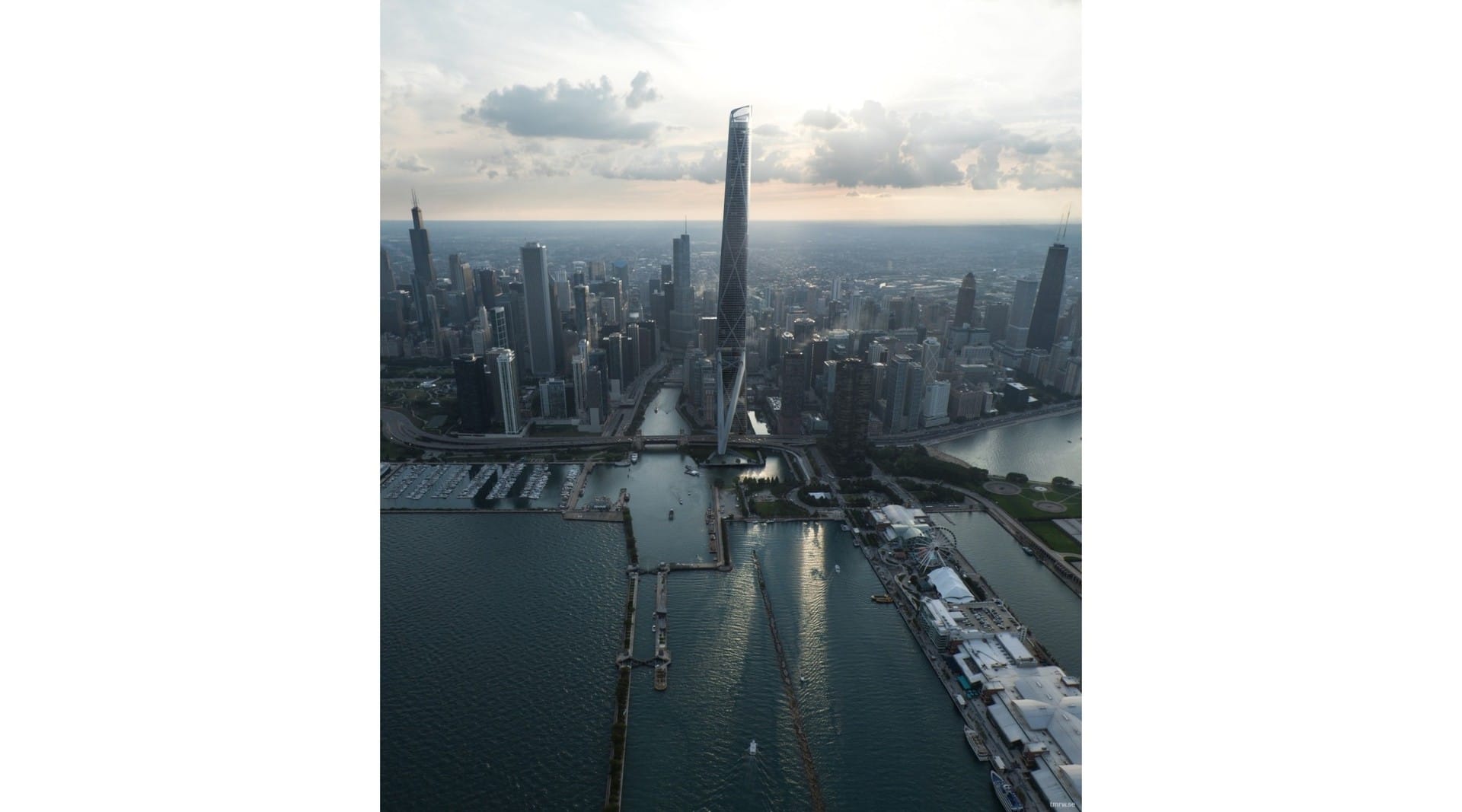 One of Tomorrow's biggest clients is Gensler, which is the largest architecture firm in the world. Gensler and Tomorrow have formed a unique relationship, and often their collaboration begins early in the design process.

"We have a lot of trust from Gensler," says Mattias. "They send us draft models, and we start to work at the same time. When they approach us they don't have the finished designs, drawings, and layouts yet. We design in parallel. They design something, send us sketches, then we build and we render it."

Tomorrow and Gensler recently teamed up to visualize the Gateway Tower. This proposed supertall skyscraper would stretch 2,000 feet into the Chicago skyline, and deliver over two million square feet of apartments, hotel rooms, and restaurant space. Tomorrow's visualization of the tower renders Chicago in steely blue-gray, with creative composition and perspective to draw attention to the slender building.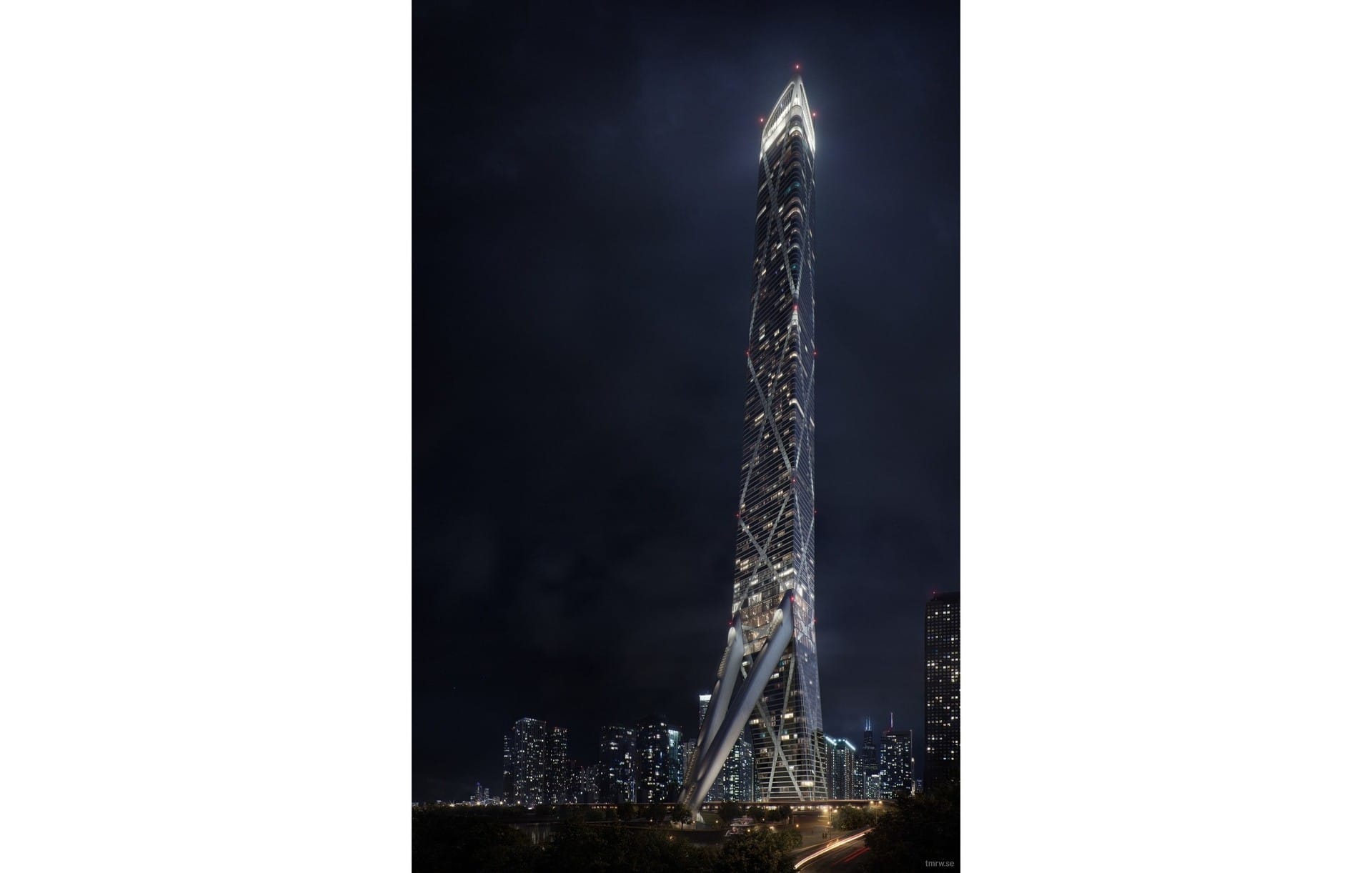 "We got a base model, with half of the Chicago skyline as volumes, so we could play around with different views and light scenarios," explains Mattias. "We did a lot of pre planning. Then we realized this is going to be the tallest building in the US! It's over 700 meters. It's super tall. How do we show this in an interesting fashion?"

The answer came from cinema, and one director known for his ability to make the colossal tangible: Christopher Nolan, who'd even used Chicago as the backdrop for a large portion of his Batman movies. Tomorrow worked hard to mimic Nolan's distinctive aesthetic, using sun and clouds to backlight buildings, and atmospheric haze and plumes of smoke to create depth.

"We had to put in our models and our light, and do a basic light pass," says Mattias. "Then we had to relight the plates and relight all the buildings and hand paint in all the speculars that were hitting the rooftop elements. There was a lot of image retouching, combined with the 3D part, to solve the problems to turn a cloudy day into an epic shot."
We're reality concept artists. Our work may not be used in a movie, but it might last for 200 years. We get to wear future goggles —knowing what's coming, because we're part of the master plan team.
The team even suggested a dramatic flourish — but it was a step too far for Gensler. "We proposed we should add some wingsuit guys diving to the tower, like in the Godzilla movie," says Mattias. "When we pitched it they said: 'We love the idea — but you guys are crazy!'"

A cinematic influence has brought Tomorrow more in line with the visual effects work they dabbled with at the start of their careers. But, while their peers work on new Star Wars movies in Hollywood, Mattias and Andreas feel they're creating something more incredible and meaningful.

"I think we are more or less fulfilling our dream," says Andreas. "While my friends create fiction and set new boundaries for imagination, we get to create the reality. We're reality concept artists. Our work may not be used in a movie, but it might last for 200 years. We get to wear future goggles —knowing what's coming, because we're part of the master plan team. And that's super interesting."